Hello and Welcome
I hope you enjoy this site, which showcases some of my paintings and writings. Sharing my experiences and observations is an extension of the process of creating. May you be intrigued and supported by my work. I am grateful for your interest.
Browsing My Site
To browse art, click or tap Artwork on the top of this page, and select from the show titles in the drop-down menu. Each title represents a themed body of work, with the most recent at the top.
The Shop tab displays all of the images, offering prints and other items for easy purchase with FREE DOMESTIC SHIPPING.
Prints are high-quality giclées, available matted and framed or unframed in a protective sleeve.
The Light From Here
 chronicles Maureen's passage through anxiety, breast cancer, and healing. The book is 204 pages and includes 28 color plates of Maureen's luminous art.
---
"Maureen Egan creates, with words and paintings, a vivid, heartbreaking and ultimately triumphant travelogue of her journey back to wholeness."
— Dave Morrison
author of Cancer Poems
From Maureen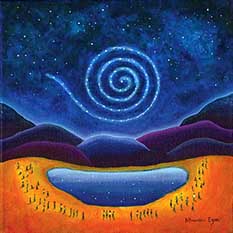 It's good to be reminded of our capacity to stand by one another through difficult times. With this in mind, we're offering a holiday card of Maureen's painting "Constellation of Kindness." Available as... READ MORE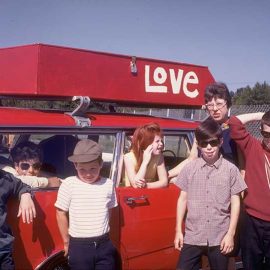 I have my mother to thank for the highlight of my childhood — a five-week, cross-country camping trip our family took in the summer of 1969, the year I turned 8. After seeing... READ MORE